Newborn Photography
In this page you will learn everything about newborn photography and your newborn photoshoot experience with me.
7 steps to choose the right newborn photographer
Choosing the right photographer can be overwhelming as there are so many talented photographers out there, but remember that your baby is this small only once, so make sure you take the time to choose the right person. The following "how-to" will guide you trough all the important steps to find the best newborn photographer match for you.
Look into a photographer's portfolio

Start with the photographer's portfolio which is where photographers post their best work. Do the images talk to your heart? If the answer is "yes" it is surely a very good start. Every artist has a unique style and spending time looking at the variety of newborn pictures on the portfolio section will give you a very good idea of the photographer's taste, vision and specific style.

My photography style is simple, organic and timeless. I want you to be able to look at your images in many years time and still love them as you do today. I am not interested in cute headbands, baskets and distracting props as my aim is to capture your baby as perfect as he/she is and all those precious features which are going to change very soon. Take some time to look at my newborn photography portfolio. I hope you will feel the same emotions I feel when I capture these precious moments.

Blog

After you have looked into the portfolio, look for the Blog section on the photographer's website. Whether the portfolio displays the photographer's best work, the blog usually displays individual full photography sessions so you can have even a better idea of the variety of images you can expect from your photoshoot.

When reviewing a photographer's Blog, look at the consistency of the work. Does it look like the photographer has a consistent style and approach? Do you like all the images you see within one single session? Do you like the siblings photos and the family photos too?Those are good questions to ask yourself while researching the right photographer for you.

The Blog is also very useful to see how much experience a photographer has with newborns and babies in general. Having many years of experience is surely a great advantage.

I have been a newborn photographer since 2010. In the last 12 years I have welcomed in the studio so many babies and I have captured the most precious memories for their families. Since my very first sessions, I have always had a strong interest in capturing authentic photographs, prioritising neutral colours and black and white images without using any props or accessories which can easily distract from the main focus which is always you and your baby. Have a look at my Newborn Blog to see more of my work with my little clients.

Look through his/her social media

After having seen the portfolio and the blog section, make sure you visit the photographer's social media. A photographer's life in the studio can be really busy and it can happen that her/his Portfolio and Blog don't get updated regularly. Social media are very quick and straight forward tools for photographer to showcase their work and often in the stories, photographers post their daily studio activity.

This will give you even a better insight into the photographer's style, personality and way of working with clients.

Have a look at my instagram profile to see my very latest work! Make sure you follow me as well so you don't loose any update!

Check The photographer's approach

Photographers differ no just for their style but also for their approach. Some photographers have a very posed and props oriented approach. Others have a baby led, natural and authentic approach to newborn photography. My approach surely falls in the second category.
My approach to newborn photography is fully baby led. This means that I aim to capture authentically your beauitful baby and, by doing so, I will never force the baby into any position nor I will create any pose which is not natural and comfortable for your baby. Instead your baby will always be my guide for the entire session and all the session will be built around his/her need.
As well as creating the most beautiful, timeless portraits of your baby and your family, I strive to make your photography session a great experience for you to remember and I am dedicated to create long term relationships with my clients and follow them in capturing their family memories and all their important milestones.

Make sure you read all the customers reviews

Reading all the customers reviews is very valuable to understand how other parents found their overall experience and will be a way to validate what has been discussed with the photographer. Make sure that the reviews are coming from a trusted source and are not just written on the website.
I am really thankful to the many parents that have dedicated time to leave google reviews for the photography session experience they had with me. They are not just a testimony of the passion and dedication i put into my work but also one of my biggest rewards.

Have a conversation with the photographer

After you have checked all these sources, remember that having a phone conversation with the photographer might help getting a better feeling about the person and most importantly ask any question you might have. At the bottom of my contact page you will find my contact details. If you would like to give me a call, please do!

Understand the pricing structure

Newborn photographers have different pricing schemes but mainly there are two common patterns: some photographers charge a session fee which does NOT include any picture or product. This might look very cheap but it is important to consider that that cost covers the session experience only and that digital images, prints or any other product are charged separately. Normally in this case the photographer will arrange a viewing /selling session for you to choose your images and buy them.

Other photographers offer predefined packages and therefore your don't need to go back to the studio for your viewing / selling session. With this approach you know, from the start, the total spent with no surprises at the end.

My newborn photography pricing structure is very simple to understand, 100% transparent, outlining all the costs upfront. I offer simple packages which include the photography session and a specific number of digital files depending on the package of your choice. After your session, your images will be sent to your home address without the need to come back to the studio for a viewing/selling session.
What to consider before booking your newborn photoshoot
What is the best age for newborn photography?
The ideal time to photograph a newborn is within the first 2/3 weeks of his/her life. During this time your baby still retains those beautiful curled positions he/she had in the bump and is more likely to sleep longer and deeper allowing me to create those amazing sleeping shots.
During the first 2 weeks, newborn babies have some very precious details which are only going to last for a short period of time. You will love to look back at those images captured and to bring those fleeting moments back in time.
When should I book my baby photoshoot?
I recommend to book your photoshoot after your 20 weeks scan. This is the best way to ensure availability for your baby photography shoot. At this stage, we will only book in your due date and this will secure your photography session in. Once the baby arrives, I will ask you to email to let the studio know the exact birth date so that we can define a final date for your photography shoot accordingly.
Is 3 weeks too old for a newborn sessions?
There is not a right age vs a wrong age for taking photographs of your new baby and capturing some precious memories. If you were not able to book your newborn session earlier, please don't worry. I can still create some beautiful images for you and your family.
Babies are perfect at every single stage: it is just very important to book a photographer who knows how to adapt his/her photographer's style to the different ages. After the first 20/30 days, babies behaviour changes together with their sleeping patterns giving me opportunities to capture a bit more of the fresh developed new personality and the beautiful bond with mum and dad. This shoot is an example of a 4 weeks old baby photographed by me.
All you need to know about your newborn photography session
I know booking a newborn photography session can be overwhelming so I hope the section below will help in answering some of the questions you might have.
Can mum and dad be part of the photo session?
YES! YES and YES! Mums and Dads are always part of the photoshoot unless requested otherwise. I would always encourage you to be in the photos with your loved one.
Mum and Baby, Dad and Baby and Whole Family photos are always my favourite and they will be your little one's favourite too when he/she is older.
Are my other children allowed to the photoshoot?
Let me start saying that, as a mum of three, I adore siblings photographs. So of course yes! They are the most welcome!
Both the classic and the total package include photos of your baby and siblings. My studio has been designed with plenty of space for everyone! RecentIy have also dedicate one room fully to the siblings by creating a "toy room" where they can play and relax while they are not needed in the "shooting room". Click here to find out more about the studio and the toy room for siblings.
Once your booking is confirmed, a welcome brochure will be sent to you with some useful information on how to prepare siblings for the shoot.
What should I wear for the newborn photo shoot?
I believe that the simpler is always the better. Neutral Colours like white, cream, oatmeal and plain fabrics are perfect as they don't distract from the main focus which is always your newborn baby and you.
Once you book your baby photography session, you will receive a welcome brochure with more detailed information about what to wear and not to wear on the day of the photo session.
Shall I bring my own props?
I don't recommend it as, most of the time, newborn props bought on the internet are not suitable for newborn photography. The material is too shiny and the size is always too big.
I have a lovely selection of hats and headbands for parents who wish to use them but I believe that the most beautiful pictures are the pictures who capture your baby without any props or accessories as perfect he/she is.
As you can see in my portfolio, my style of photography is very elegant, classic and natural and my focus is always your baby and his/her precious little features.
How do I get my newborn ready for photoshoot?
There is not need to add any stress on you to get your newborn baby ready for the shoot.
I have everything we need for your baby in the studio: soft blankets and cozy wraps to cover the nappy and create a beautiful natural nest around the baby.
It would be ideal if you could feed your baby before coming. This can help as it allows some time between the feed and the beginning of the shoot for the milk to settle in his/her little stomach.
However, if this doesn't work with your schedule, please do not worry. I will work around his/her feeding patterns.
Is there any discount if I book a Newborn and Maternity Photography Session?
Depending on the package of your choice, yes. Please refer to the newborn photography packages to see the discount associated with any of my packages.
Where is my Newborn Photography Shoot going to be held?
All my newborn and baby photography sessions are held in my Natural light studio in Cambridge where I have recreated a beauitful, peaceful and relaxing environment where mum and dad can relax while I take care of their bundle of joy. I have out together an article on my blog section about my studio so you can have a taste of it before your session.
Most common worries and concerns about newborn photography
Most of the mums who chose not to have newborn photography session they are driven by worries and concerns. Will I be able to leave the house with a newborn? What if my baby doesn't cooperate and doesn't settle? I look so tired. Would a photoshoot be a good idea? These were my concerns as well and the reason why, as a fresh new mum, I chose not to have my newborn photography shoot. Please do not make the same mistake Ie made. It is my biggest regret.
What if my newborn doesn't sleep?
I have never seen this as a problem. Babies are very unpredictable and it is not unusual for me to meet a wide awake newborn baby. Having an awake baby doesn't prevent me to create some wonderful images for you and your family. You can browse through my website to see some amazing awake images of newborns.
How do I make sure we can capture some sleepy shots?
Time is always the answer. Allowing time for you and your baby to have extra feeds, extra cuddles always helps. Normally, even the most awake newborn, after one hour is very likely to fall asleep.
Both the classic and total package are longer sessions and normally the extra time ensures that you will have sleepy shots.
When you choose either a classic or a total package, I will not book any other client so that we can stretch your shoot a bit longer if your baby needs extra time.
"I would love to be part of my little one' photoshoot but, after the birth, I feel so tired and I don't feel like I am back to my normal shape."
I have been there, as mum and I can relate to this perfectly.
First of all, from a mum to another mum, your body has done something incredible. Please focus on this rather than on its different shape. It will go back to its shape eventually but now it needs to be celebrated for the life it has created.
As a professional photographer, is part of my job to ensure you will always look at your best. Photoshop is always a good photographer's best friend.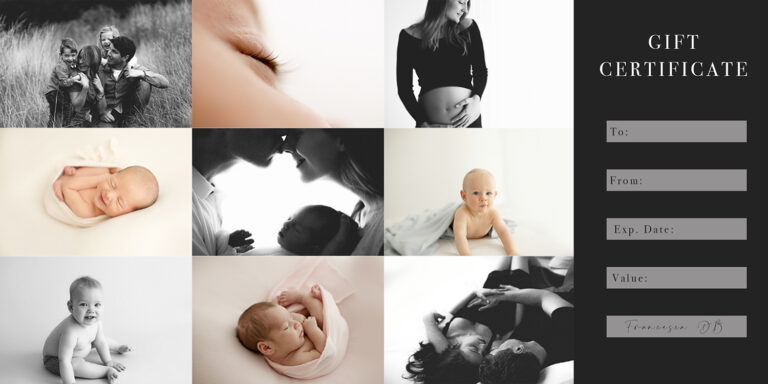 "I would like to buy a newborn & family shoot for a special person. Can I do that?"
Of course you can. Whether is your wife, sister, daughter, colleague or one of your best friends, we can create a personalised gift voucher for your loved one.